2.4mx1.4m high Straight Fabric Wall
The 2.4mx1.4m high Straight Fabric Wall is Tenji's signature display system and the perfect solution for your shopping centre display. They are by far one of the most popular items that we print and manufacture. The 2.4mx1.5m high Straight Fabric Wall comes with a full colour stretch fabric print. Printed in house at our Factory in Brisbane. The display can be printed with logos, photos or any other branding, with beautifully bright and vibrant colours. The Fabric print slides over the Aluminium frame of the Straight tension fabric wall with ease. Zipping up at the bottom like a large pillowcase to give the wall an amazingly smooth, tight finish.
What your 2.4mx1.4m high Straight Fabric Wall comes with
The 32.4mx1.4m high Straight Fabric Wall uses a click together aluminium frame. Because of this super easy system, is able to be set up ready to go in a matter of minutes. The aluminium frame is strong and sturdy but remaining super lightweight. This lightweight nature of the frame ensures that you can carry around and manoeuvre the 2.4mx1.4m high wall with ease. You can get the placement of the wall perfect within your shipping centre space or trade show booth to work with height restrictions.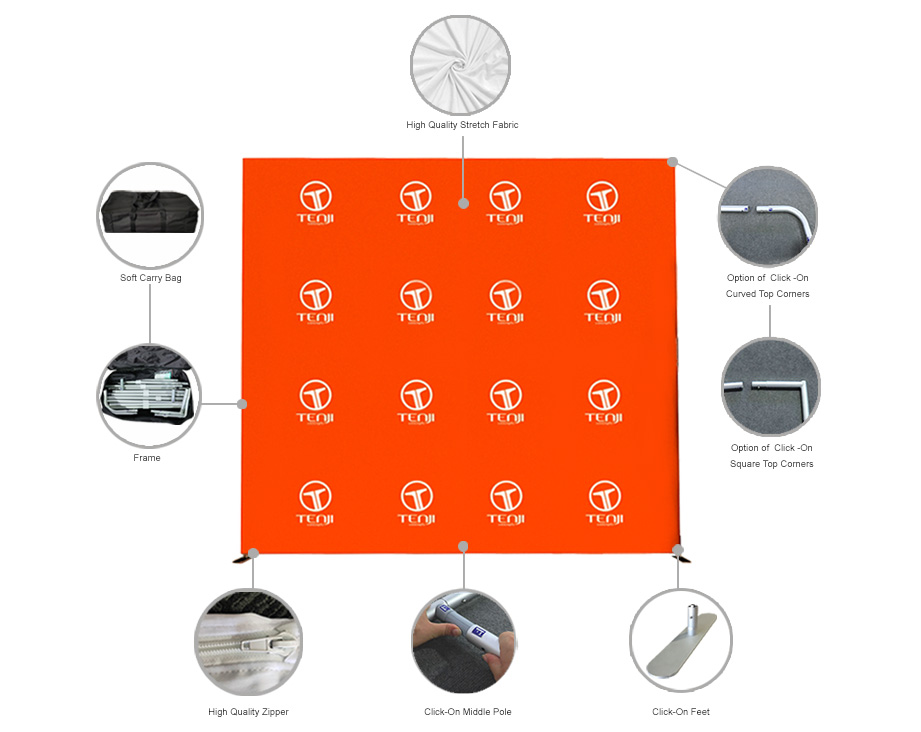 To pack up your 2.4mx1.4m high Straight Fabric Wall. All you need to do is take apart the aluminium frame, fold the parts up. Then place them into the small, lightweight, ergonomic carry bag that comes with the system. This carry bag is super simple to carry around and transport, so you don't have to struggle with packing up and moving a bulky display.
Make your shopping centre display standout from the crowd and giving it the wow factory completely by getting yourself one of Tenji's Amazing 2.4mx1.4m high Straight Fabric Wall. Guaranteed to give your booth space the modern, professional design that you are looking for.
Tenji can ensure perfect fitment and the option of super fast production times because our displays are printed and manufactured in house.
If you would like to see more options of our tension fabric walls or displays for both indoor and outdoor events check out the hundreds of options here https://tenji.com.au/