Acrylic Letters
Tenji's in house production of acrylic letters can boast the fastest turnarounds for stocked acrylic's and best prices Australia wide without compromising quality. Our up to date laser and CNC equipment gives us speed, accuracy and reliability which is absolutely essential for us given that our business is 95% trade clients.
We stock plenty of clear, black and white acrylics in a range of thicknesses as well as having access to an abyss of specialty acrylics in a vast range of colours and thickness. This allows us to produce standard cut out letters of white,clear and black acrylic at incredible prices but also having the ability to manufacture specialty custom jobs using exotic acrylics. See below some of the different acrylics we have in stock or access to.
Machinery…
Tenji is armed with the latest in CNC and laser machines. This selection of machinery allows us to fit the right machine and materials to the job at hand. CNC up to 2400mm x 1200mm and laser up to 1200mm x 600mm. This late model equipment allows us to produce quality items efficiently and accurately.
Clear Acrylic
We can laser cut or CNC router cut clear acrylic in a range of thicknesses. 1.5mm,2mm,3mm,4.5mm,6mm,8mm,10mm x 12mm,15mm,20mm,25mm and 30mm. For urgent jobs please ask what thicknesses we have in stock at the time.
White Acrylic
White acrylic can be laser cut or CNC router cut. We can cut up to 20mm thick white acrylic. White acrylic comes in 2mm, 3mm,4.5mm, 6mm, 10mm, 15mm & 20mm. For urgent jobs ask what we have in stock at the time.
Black Acrylic
Either laser cut or CNC router cut black acrylic comes in a range of thickness from 2mm, 3mm,4.5mm, 6mm, 10mm, 15mm & 20mm. Sheets sizes we stock are 2400mm x 1200mm. For urgent jobs ask what thickness we have in stock at the time.
Frosted Acrylic
Frosted acrylic comes in clear at 3mm & 4.5mm thickness. Frosted clear is a great look for display manufacturing or a unique look for acrylic letters. Frosted Black and white acrylic is also available.
Opal Acrylic
Also known as backlit acrylic this can be used for illuminated signage such as lightboxes or push through backlit letters. Comes in thicknesses of 2mm, 3mm, 4.5mm, 6mm, 10mm, 12mm, 15mm, 20mm and 25mm
Mirror Acrylics
Mirror acrylics are a great internal design feature for reception signage or custom cut decorative solutions. Silver and gold mirror available in 3mm. Laser cut or CNC cut in house.
Solid colours
We have available a range of solid colour acrylic. Available in 3mm, 4.5mm and 6mm thickness this gives us the ability to quickly cut and ship without painting (see painting options below for unique colours).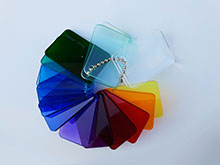 Transparent Acrylic
Laser cut or CNC routed letters from Transparent acrylic can create a unique look for your sign or display. Talk to us about your ideas as we have cutting and fabrication services in house.
Neon Acrylics
Our Neon acrylics are a range of colours that can be used to create standout translucent signs or displays. We can laser cut or CNC route as well as engrave these acrylics for striking effects.
Painted Acrylic Letters
At Tenji Concepts not only can we laser cut or CNC cut acrylic letters we can also paint them in house if required. Sometimes there are limitations of standard acrylic colours so to get the desired colour or design they occasionally need to be painted instead. We have a qualified spray painter (formerly a vehicle painter) in house who is able to spray in many different refinishes including 2pac, acrylic enamel and waterbased acrylic. For the highest quality and longevity in finishing acrylic 2pac is recommended.
Installation….
Installing your acrylic signs is easy if you choose to do it yourself. We ship globally so there is no problem getting it to you. We can also provide a range of doublesided tapes, standoffs and mounting solutions for you.
Most of our acrylic signs come with a paper template for you to get the best result easily. If you do need us to install it for you just talk to us. Installing locally in Brisbane and Gold Coast is no problem and we have installers in Sydney and Melbourne ready to help you out.
See below for some standard mounting options or talk to us regarding your requirements.
Double Sided Tape
This is the most popular method for mounting acrylic letters to flat smooth surfaces such as drywall, gyprock and painted surfaces. We have a range of different double sided tapes and thickness available by the roll or we can supply the letters with DS tape for you. This mounting method is easy to self install and leaves a nice flush look.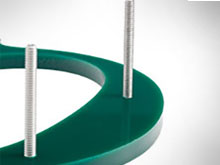 Flush Stud Mounts
Flush stud mounts can be used on a wide range of surfaces for a strong hold. Great for surfaces like concrete, stone and rough timber and can also be used on drywall etc if double sided tape is not desired. We can supply a template as guide for drilling. This solution provides a flush (as possible) install.
Stud Mount Spacers
Stud mounting method but with spacers. This install method allows the sign to stand off the wall or surface for an added 3D effect. Templates are also available for this method if required. We can custom cut the spacers to your desired length. This method is also great for very uneven surfaces like rock etc