Tenji's 12m straight media backdrop wall
​Are you in need of a Tenji 12m straight media backdrop wall?
Tenji's 12m straight media backdrop wall is typically used as backdrops for your events, seminars, conferences and red carpet events. Tenji's stretch fabric Media walls are the best choice for the perfect professional photo backdrops. Our stretch fabric allows for optimal photography due to the matte finish. Splash your logo's, sponsor logos, slogans or images across your Tenji Media wall for the best backdrop display. Let every photographer and spectator capture a great photo of their celebrity, speakers and mentors they can get.
Tenji's Media walls are made from a high quality click together aluminium extrusion which takes only minutes to set up. Why because you simply slide the stretch fabric print over the top and zip up at the bottom for a perfect flawless self tension finish. In fact they are the easiest media backdrops to erect. Because of the click together frame anyone can put them together.
Your choice of square top corners for a more angled look or curved top corners like our FleXad walls. At the end of your event it take minutes to pack up and fits neatly into a soft carry bag ready to take to your next event.
Tenji offer optional extra's to your media wall like LED lights across the top if required and heavy duty carry bags to keep your Tenji Media wall protected. For instance we have different options of feet or materials we can print them onto. You can choose from white backing, black backing, single sided, double sided or blockout fabric.
How to take care of your 12m straight media backdrop wall print:
If you need to take care of your media wall print, simply pop it into the washing machine with liquid detergent on a cold or warm cycle. Pop it back onto the frame to dry or dry out of the sun. DO NOT put into dryer because it will shrink.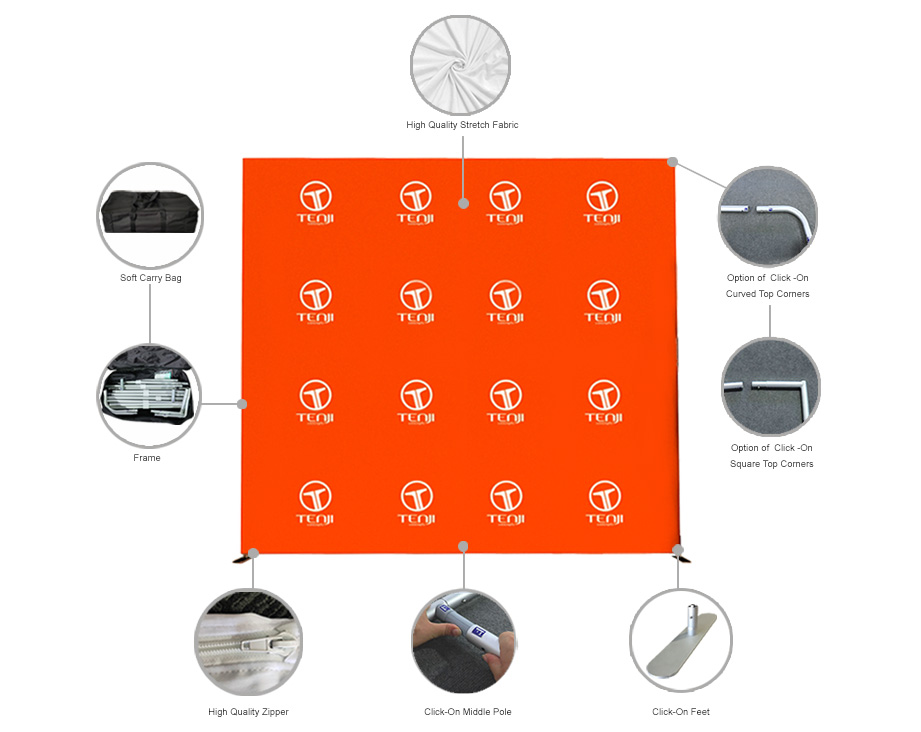 24-48 Hour Production from proof approval!
Sizing of your 12m straight media backdrop wall
Size: 11950mm wide x 2280mm high
Package size: 2 bags x 156cm x 35cm x 15cm – weight 20kgs
We can custom make any size straight media wall you require because we make all our straight walls in house in our Brisbane factory. Check our our standard sizes we do right HERE if you can't see the size you are after just contact us and get a quote for the size you are after. Most importantly don't be afraid to ask us! We are here to help.