3m Tension Fabric Monitor Combo
Tenji's 3m Tension Fabric Monitor Combo caters for exhibitors looking to fill their booth space with professional yet affordable displays. Including a portable TV monitor assessory. Can hold up to a 32inch monitor screen or 17kgs (screen not included)
Tenji's tension fabic walls are made from a high quality click together aluminium extrusion which takes only minutes to set up. Why because you simply slide the stretch fabric print over the top or side and zip up at the bottom for a perfect flawless self tension finish. In fact they are the easiest backdrops to erect. Because of the click together frame anyone can put them together. This is a lightweight system that packs down into stylish soft carry bags.
How to take care of your 3m Tension Fabric Monitor Combo prints:
If you need to take care of your wall prints, simply pop it into the washing machine with liquid detergent on a cold or warm cycle. Pop it back onto the frame to dry or dry out of the sun. DO NOT put into dryer because it will shrink.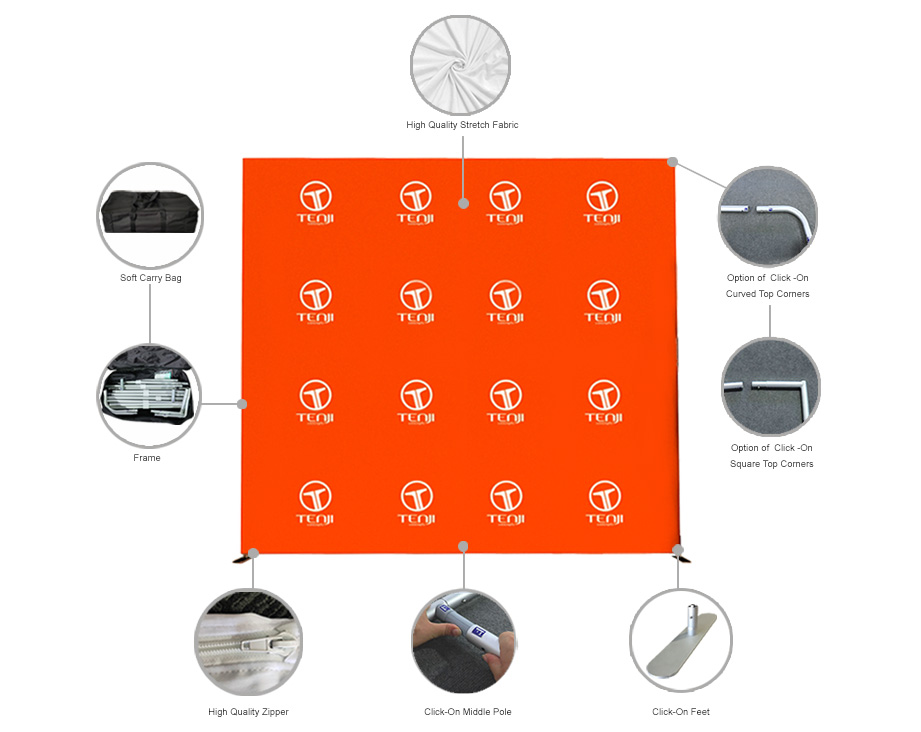 What your 3m Tension Fabric Monitor Combo comes with:
3m FleXad straight wall
FA-MO3C Monitor stand (holds up to 32inch)
2 x Detachable Shelves
Full colour stretch fabric print
Soft Carrybags
Make your Exhibition Booth Space standout from the crowd. Give it the wow factor completely by getting yourself one of Tenji's Amazing 3m Tension Fabric Monitor Combo. Guaranteed to give your booth space the modern, professional design that you are looking for.
Tenji can ensure perfect fitment and the option of super fast production times because our displays are printed and manufactured in house.
If you would like to see more options of our tension fabric walls or displays for both indoor and outdoor events check out the hundreds of options here
FA-MO3 can be used at any point along the lenght of your 3mtr wall, comes with clamps at the top to clip over.